Leading 3-0 at the break the Australian side was left hanging on at the end as the Africans staged a late comeback utilising the fifth man play to perfect effect, netting twice within three minutes to set Futsalroos hearts racing.
And it took a fantastic late save from replacement goalkeeper Roberto Maiorana with twenty seconds remaining, the 'keeper blocking a Dany effort with his legs, to preserve the win and the three precious points that could see the Futsalroos become the first Australian side to reach the round of 16.
It had appeared a lot easier in the opening stanza with the Futsalroos dominating the majority of possession and creating a number of openings. Shervin Keshavarz  Adeli went close with a trio of volleys from set-piece corner kick routines just flashing wide of the Mozambique goal.
Mozambique had a plethora of opportunities of their own, none better than the one missed by Favito who somehow contrived to hit the base of the post from close range after a swift counter-attack had caused Australia problems leaving Mozambique two-on-one in attack.
But it was Australia who took the lead in the 10th minute. Daniel Fogarty played a huge part, his tenaciousness ensuring he won a tackle that he had no right to do and his stabbed pass found Jonathan Barrientos in space. Perhaps fittingly it was Barrientos, of Colombian heritage, who slid the ball past Nelson and into the far corner for the Futsalroos opening goal.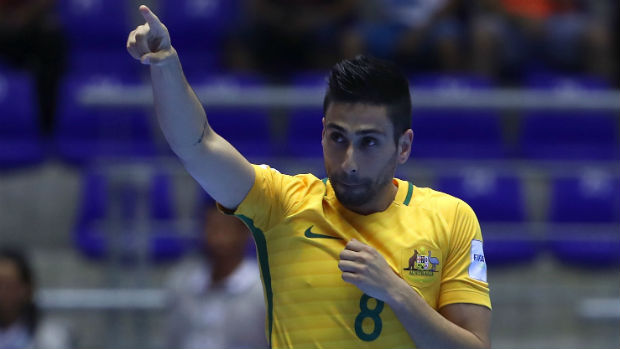 It got better for the Futsalroos in the 18th minute as they doubled their lead. Adam Cooper had already stung the palms of the Mozambique custodian with a rasping drive but the shot-stopper could do nothing with his next effort. Cooper played the ball into Blake Rosier who utilised his strength to hold up play and return the pass for Cooper to thump a low shot under the goalkeeper.
And it was dreamland for Australia minutes later. Greg Giovenali chased down what had appeared to be a lost cause harrying Nelson into a rushed clearance. Fortune favoured the Futsalroos skipper and the ball ricocheted off his shins and into the unguarded net for possibly the luckiest strike of his international career.
Chasing the game in the second half Mozambique reverted to their fifth man ploy, handing Carlao the pseudo-keeping duties and the extra court player caused Australia a number of problems. Firstly Calo slid a slide-rule finish past Angelo Konstantinou, otherwise faultless, and into the far corner before Dino repeated the feat with almost a carbon-copy finish past Maiorana.
That precipitated a nail-biting finale with Australia going close on a number of occasions to adding a fourth into the unguarded Mozambique goal as Daniel Fogarty (twice), Tobias Seeto and Wade Giovenali all threatened to net from long range. It mattered not though and all fourteen players can be counted as Futsal heroes in their homeland for claiming a rare FIFA World Cup win that could yet lead to even greater triumphs.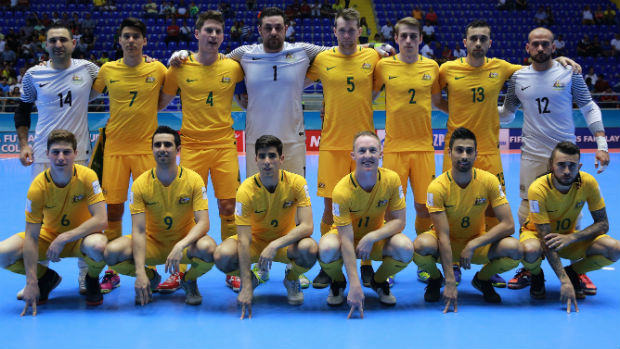 Match Details
Mozambique 2 (Calo 31:28', Dino 34:18')
Australia 3 (Barrientos 9:32', Cooper 17:20', G. Giovenali 18:34')
Teams
Mozambique: 12. NELSON, 2. CALO, 3. CARLAO, 4. LAMARQUES, 5. FAVITO, 6. MANUCHO, 7. MARIO, 8. EDSON, 9. MAGU, 10. ZIRA, 11. DANY, 13. DINO, 14. RICARDINHO, 1. CALTON
Australia: 1. Angelo KONSTATINOU, 2. Adam COOPER, 3. Jarrod BASGER, 4. Greg GIOVENALI, 5. Blake ROSIER, 6. Wade GIOVENALI, 7. Tobias SEETO, 8. Jonathan BARRIENTOS, 9. Chris ZEBALLOS, 10. Daniel FOGARTY, 11. Dean LOCKHART, 12. Roberto MAIORANA, 13. Shervin KESHAVARZ ADELI, 4. Peter SPATHIS
Officials
Referee: Carlos GONZALEZ (Guatemala)
2nd Referee: Christopher SINCLAIR (New Zealand)
3rd Referee: Rex KAMUSU (Solomon Islands)
Timekeeper: Lance VANHAITSMA (USA)
Discipline
Yellow Cards: 2. Calo (Mozambique), 7. Tobias Seeto (Australia)
Red Cards: Nil
This article was originally published at: http://www.footballaustralia.com.au/article/futsalroos-off-to-winning-start-at-world-cup/yyj64c3bxatd1uzwdhg158g9z.